Victron BMV700 Battery Monitor
Regular price
Sale price
$178.00
Tax included.
---
Victron BMV 700 battery monitor including shunt. 
The BMV-700 is the latest high precision battery monitor from Victron. The BMV-700 monitors voltage and current of a single battery bank and calculates power, state-of-charge and time-to-go. 
Installation is simply a case of connecting the supplied shunt in the negative battery cable, mounting the monitor in a 52mm diameter hole and connecting the wires. An optional wall enclosure is available if surface mounting is preferred.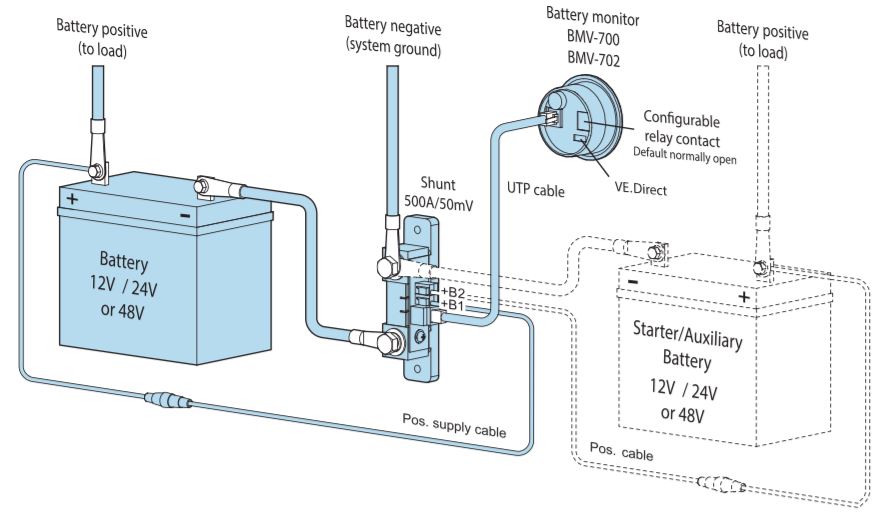 Features
Easy to Install:  All electrical connections are to the quick connect PCB on the current shunt. The shunt connects to the monitor with a standard RJ12 telephone cable. Included: RJ 12 cable (10 m) and battery cable with fuse (2 m); no other components needed. Also included are a separate front bezel for a square or round display appearance, a securing ring for rear mounting and screws for front mounting.
Very Low Current Draw from the Battery:  Current consumption: 0,7Ah per month (1mA) @12V and 0,6Ah per month (0,8mA) @ 24V Especially Li-ion batteries have virtually no capacity left when discharged until low voltage shutdown. After shutdown due to low cell voltage, the capacity reserve of a Li-ion battery is approximately 1Ah per 100Ah battery capacity. The battery will be damaged if the remaining capacity reserve is drawn from the battery. A residual current of 10mA for example may damage a 200Ah battery if the system is left in discharged state during more than 8 days.

Bi-Stable Alarm Relay:  Prevents increased current draw in case of an alarm.
Other Features: 
Battery voltage, current, power, ampere-hours consumed and state of charge
Remaining time at the current rate of discharge
Programmable visual and audible alarm
Programmable relay, to turn off non critical loads or to run a generator when needed
500 Amp quick connect shunt and connection kit
Shunt selection capability up to 10.000 Amps
VE.Direct communication port
Stores a wide range of historical events, which can be used to evaluate usage patterns and battery health
Wide input voltage range: 6,5 – 70V
High current measurement resolution: 10 mA (0,01A)
Specifications
GENERAL
Supply Voltage Range: 
6.5 - 70 VDC
Current Draw, Back Light Off:
  < 1mA
Input Voltage Range, Auxiliary Battery: 
6.5 - 70 VDC
Battery Capacity (Ah): 
1 - 9999 Ah
Operating Temperature Range: 
-40 +50°C (-40 - 120°F)
Measures Voltage of Second Battery, or Temperature, or Midpoint:
  Yes
Temperature Measurement Range: 
-20 +50°C
VE.Direct Communication Port: 
Yes
Bistable Relay:
  60V / 1A normally open (function can be inverted)
RESOLUTION & ACCURACY (with a 500 A shunt)
Current: 
± 0,01A
Voltage: 
± 0,01V
Amp Hours: 
± 0,1 Ah
State of Charge:
  (0 – 100%) ± 0,1%
Time to Go:
  ± 1 min
Temperature (0 - 50°C or 30 - 120°F): 
± 1°C/°F
Accuracy of Current Measurement: 
± 0,4%
Accuracy of Voltage Measurement: 
± 0,3%
INSTALLATION & DIMENSIONS
Installation: 
Flush mount
Front: 
63mm diameter
Front Bezel: 
69 x 69mm (2.7 x 2.7 inch)
Body Diameter and Depth: 
52mm (2.0 inch) and 31mm (1.2 inch)
Protection Category: 
IP55 (not intended for outdoor use)
STANDARDS
Safety: 
EN 60335-1
Emission/Immunity: 
EN 55014-1 / EN 55014-2
Automotive: 
ECE R10-4 / EN 50498
ACCESSORIES
Shunt (included): 
500A / 50mV
Cables (included): 
10 meter 6 core UTP with RJ12 connectors, and cable with fuse for '+' connection
Temperature Sensor: 
Optional (ASS000100000)